HELPING FOR THE HOLIDAYS/TOYS FOR TOTS: DCW Pro Wrestling returns to Felton, DE on December 10, Toys for Tots collected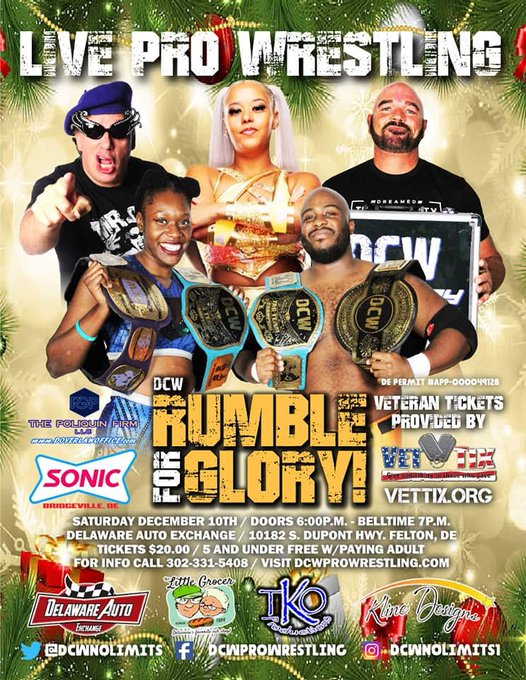 Dynamite Championship Wrestling returns to the Delaware Auto
Exchange (DCW Arena) in Felton, DE for DCW RUMBLE FOR GLORY
on Saturday, December 10

The Poliquin Firm, Sonic of Bridgeville, DE, TKO
Productions, and Kline Designs present
DCW RUMBLE FOR GLORY!
DE #APP-000049128
DCWPROWRESTLING.COM

DELAWARE AUTO EXCHANGE (DCW ARENA)
10182 S. DUPONT HWY. FELTON, DE!

This is a DCW Overdrive TV Youtube Taping! Go to
https://www.dcwoverdrivetv.com and click the link to
subscribe to our official youtube channel to watch for FREE!

DOORS OPEN AT 6 p.m. - BELLTIME 7 p.m.

Tickets $20 - 5 & Under FREE!
Tickets can be purchased by calling or texting 302-331-5408
or at the door!

Veteran Tickets provided through http://www.vettix.org!

Event Associate Sponsors:
Delaware Auto Exchange
Motivated Apparel
Rassle Rock Radio Podcast
Mom-Mom's Ice Cream
The Little Grocer
Low Blow Video
Wings to Go in Dover, DE

***There will be a Raffle for Prizes***

MATCHES & EVENTS ALREADY ANNOUNCED!
* DCW RUMBLE FOR GLORY MATCH
30-Man Rumble Match to determine the next challenger for the
DCW Championship at DCW Guts & Glory 20!

* DCW CHAMPIONSHIP
DCW & Tag Champion Dave Reed
(vs)
#1 Contender Adonis Valerio

* DCW DIY CHAMPIONSHIP
(C) "Daddy's Favorite" Jadis Quinn
(vs)
"Luminous" JC Storm

* DCW NO LIMIT CHAMPIONSHIP
(C) The Spark's Cory Kastle
(vs)
"The Dark Horse" Ryan Gates

* "The Honorable" RGP returns LIVE and he is looking for a
fight!

* Sonic Drive In Owner Phillip Speleos challenged to show up
by Hellfire McGuire!

MORE TO BE ANNOUNCED/ Card Subject to change!